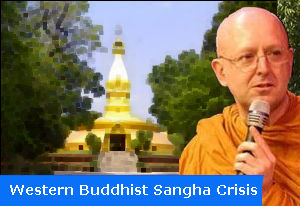 Breaking news from The Buddhist Channel: 
On Thursday 22nd October 2009, Sisters Vayama, Nirodha, Seri and Hassapañña were ordained as Theravada Bhikkhunis in a dual ordination ceremony held at Bodhinyana Buddhist Monastery in Perth, Western Australia.

Ayya Tathaaloka, from the United States, was the Preceptor. Ajahn Brahm and Ajahn Sujato performed the certifying acariya chanting in the bhikkhu's part of the ceremony.

[…]

[Ajahn Brahm] was summoned to a meeting in Thailand on Sunday November 1st where, after much harsh discussion, he was given the choice of publicly stating that the ordination was invalid or [Bodhinyana Monastery would be disavowed by the] Wat Pah Pong community.

He refused to recant, as he was not willing to disavow an ordination procedure which was valid according to the Vinaya (the monastic rules established by the Buddha), nor was he willing to go against the wishes of the Australian Sangha Association and the thousands of lay Buddhists from around the world who supported the full integration of women into Theravada Buddhism.
The status of Bodhinyana Monastery was subsequently revoked.
NellaLou at Enlightenment Ward also points us to many reactions to this news in the Buddhoblogosphere.  Of special note among these many reactions, though, are those from Wisdom Publications' editor David Kittelstrom and Arun at Angry Asian Buddhist, who doesn't like the way the words "excommunication" and "schism" are being thrown around in this discussion.
My thoughts on all of this?  I simply quote His Holiness the Dalai Lama:
Given that women are fully capable of achieving the ultimate goal of the Buddha's teachings, in harmony with the spirit of the modern age, the means and opportunity to achieve this goal should be completely accessible to them.

The most effective means and opportunity for achieving this goal is full ordination (Upasampada) as a Bhikshuni and full participation in the life of a community of Bhikshunis, that is, a Bhikshuni Sangha in their practice tradition.

Full ordination for women will enable women to pursue wholeheartedly their own spiritual development through learning, contemplating, and meditating, and also enhance their capacities to benefit society through research, teaching, counseling, and other activities to help extend the life of the Buddhadharma.